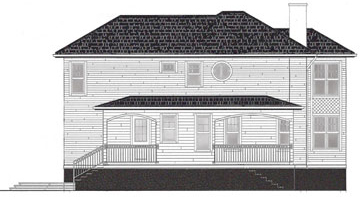 This property in Rockaway, New York was in the planning stages of construction when the contractor/owner contacted me to do colors for it. He emailed the elevations to me, which are architectural renderings and talked to me about the details and the type of construction and what would be paintable. The property is in a beach area in New York.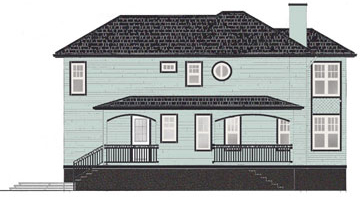 This Client is a pretty strong personality so I knew he could handle black trim. I chose an aqua for the main body which I thought would be nice in a beach area. I used the trim color on the windows, portal window, archways, railings and even the top of the chimney.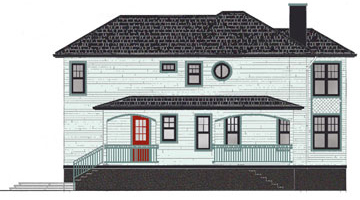 Next I chose to go with a lighter aqua for the main body and replace most of the black trim with a dark aqua. I added a red door for fun. Red doors are considered welcoming and in Feng Shui, a brightly colored door is said to bring positive energy into the home. You can find out more about the meaning of a red door at wiki answers using this link.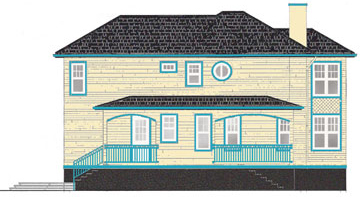 I then switched to a somewhat bright yellow with a deep aqua trim. I don't know about you, but I would love to come home to my house by the ocean and see these colors as I pulled up. Actually I'd love to pull up to any house in a beach area and call it mine!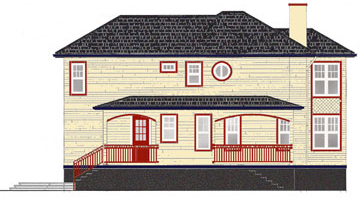 Next I swapped out the aqua trim from the last version to a deep red, using the same red on the "welcoming" door.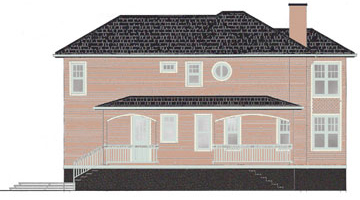 In this version I chose something completely different just to give the Client as many options as possible. While this may not be my favorite color for the main body, one thing I have to keep in mind when coloring other people's homes is that everyone's taste is different. That's why I like to meet with you and talk to you about your likes and dislikes. This color combination is still beachy looking, if you think of all the colors they use on properties in places like the Bahamas. And I like the light aqua I chose to offset the deep reddish tan of the main body.
I don't actually recall which version he went with and unfortunately the home suffered enormous damage during Hurricane Sandy, along with a lot of others.