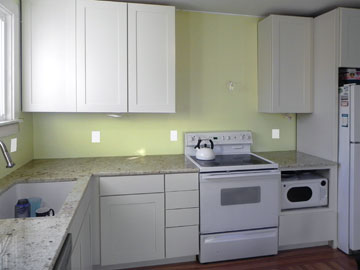 A contractor friend of mine had just finished installing a new kitchen for two women who share a home. Their kitchen is part of a larger room which they use as a living room. They were having difficulty agreeing on color since one of them hates yellow and the other is not fond of blue. I said there were two ways to aproach this project. I could come to the house for an hour or so with my swatch books and discuss color, charging them by the hour, or if they decided they needed further help, I could provide an estimate to show them how various colors might actually look using my computer.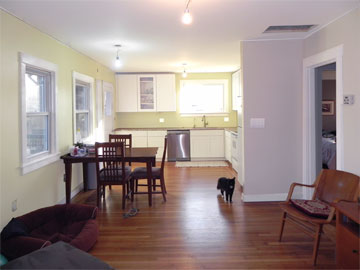 Another perspective of the room. I knew I wanted to make that wall to the right the same color as the rest of the room. Right now it was broken up and needed to feel like one great room. After going over some colors using the swatch book, they were still unsure. They had tested many different colors and had even painted the room twice and still had not come to a decision. I asked why they hate yellow and blue. It turns out, only certain blue tones were unfavorable to one of them. I pointed out that we needed to take the red/gold tones of the floor and furniture into consideration and the fact that while standing in this room, walls in the next room were visible and would be affected.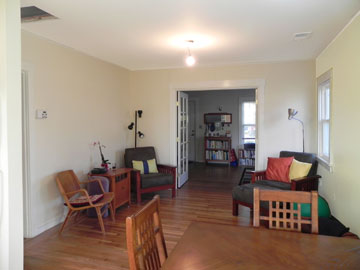 They decided they needed to see how the entire room would look and asked for my computer help. I chose this view because it shows the wall I planned to use as a contrast wall and it also shows how the color in this room will affect the next room and the french doors.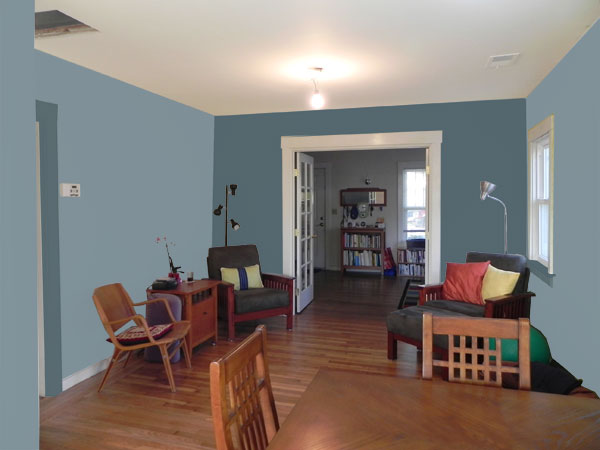 This warm blue offsets the red/gold of the floors and furniture nicely. I added a contrast wall in a darker blue and showed them a number of variations coloring the window trim and sills and the french doors and trim.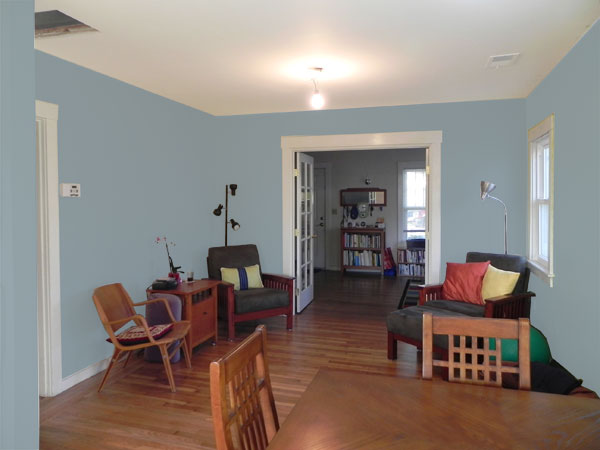 We talked about doing a copper backsplash which would pick up some color from the new countertop. It also would pick up the red/gold tones in the floor and furniture. So I added a representation of a copper backsplash which you can see in this image. I guess they were happy with my work, because they called again for help with the bedroom.